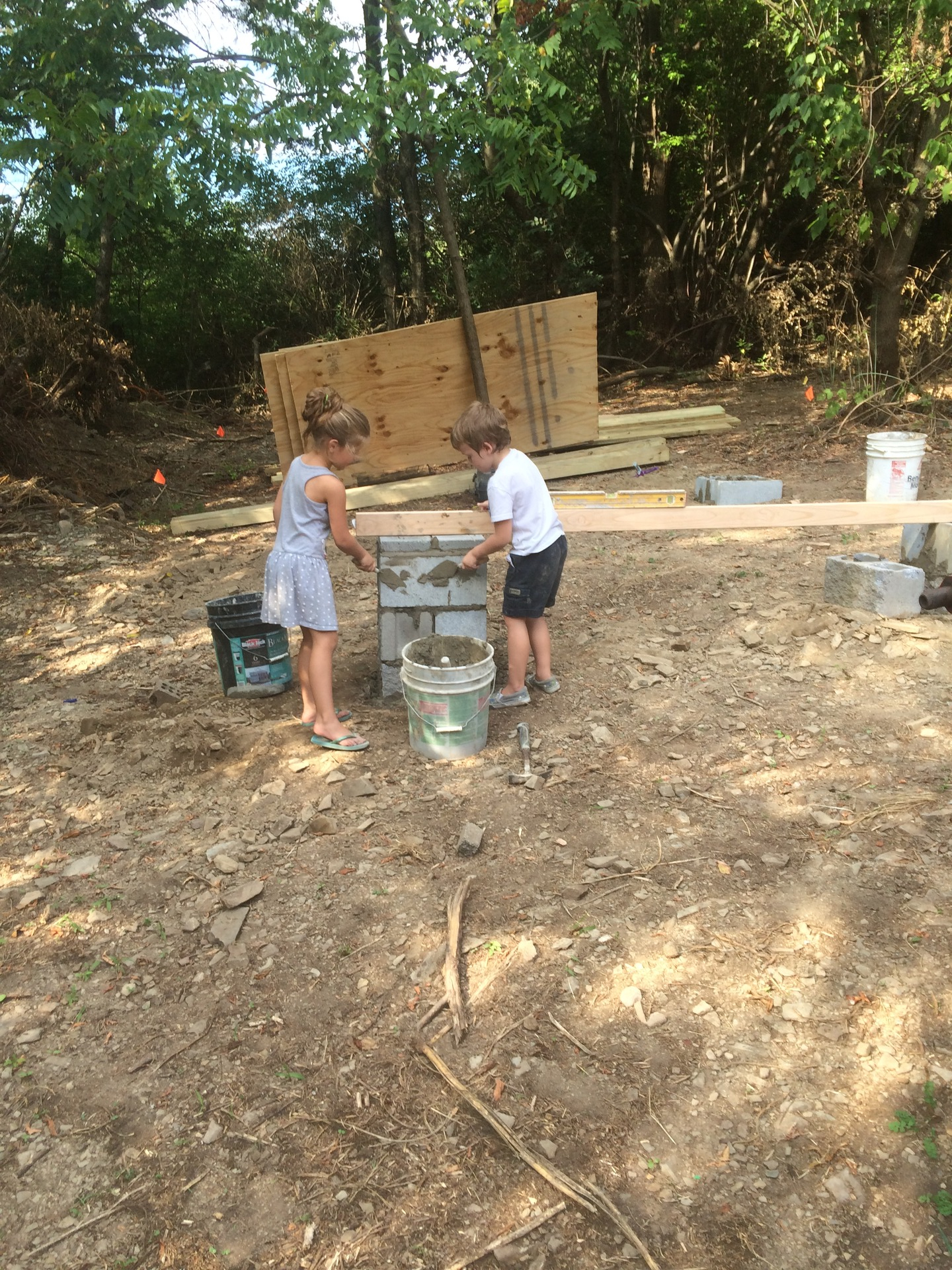 Masonry is in our blood. It is also very dirty hard work, both physical and mentally. These potential forth generation masons are showing good signs of interest in the trade. Already learning how to use a towel and having no visible fear of dirt. Our hopes are high that when the time comes they will continue the family business of providing masonry services to the Lehigh Valley.

Our Forth Generation masons In trianing
about our company
Hello my name is Brian Keen. I am third generation mason. Taking over the family business in 2010. We are a small masonry company providing honest, dependable workmanship to the Lehigh Valley . We speclize in natural flagstone and masonry restoration including chimneys, brick work, natural stonework, and walkways. With a passion for restoring old architecture,
we also provide new custom masonry services. When it comes to masonry there is nothing we can't do. Please give us a call for your masonry needs.
Thank you for viewing our site. I look forward to meeting with you about your masonry project.
plan your next Masonry project
Have a need for our masonry services or thinking of a future project. Let's get started. Click the "Get Started" button and submit your contact info. We will contact you to schedule your free estimate.
quarry Direct Pa flagstone
We provide quarry direct Pa Flagstone. Our stones are hand picked by a mason, not a salesman. Many types and colors available including Pa flagstone pattern cut and irregular in lilac, blue, green and variegated. All colors also available in natural wall stones. These high quality stones are used on all our flagstone work. We can even delivery to your door flagstone by the pallet or piece for the do-it yourselfers and beat anyones price in the Valley.

Fireplace and Chimneys
We also can inspect your current chimney and fireplace. Thou we do not provide yearly cleaning services. We do repair and replace dampers, smoke chambers, clean out doors and replace firebrick. When installing liners and full chimney covers we install only the best locally fabricated products. Provided by Olympia Chimney Supply.
Snow Removal Services
Come winter we provide snow removal and
salting services. With years of plowing experience we can get the job done. We have personalization for every job. If you want special salt and plastic shovels on your flagstone or trex deck. We have new reliable trucks and snow throwers. Contracts for the season or just as needed if the husband is out of town. Give us a call ask for Brian at 610-762-1153.
* Natural Stone Veneer
* Natural Flagstone work
* Fireplaces - Pizza Ovens
* Barbecues - Smokers
* Chimney Work - lining

* Brick veneer - Block Work
* Masonry Stucco

* Concrete Work
* Masonry Restoration
- Stone pointing
- Brick pointing
- Sand blasting
- Waterproofing